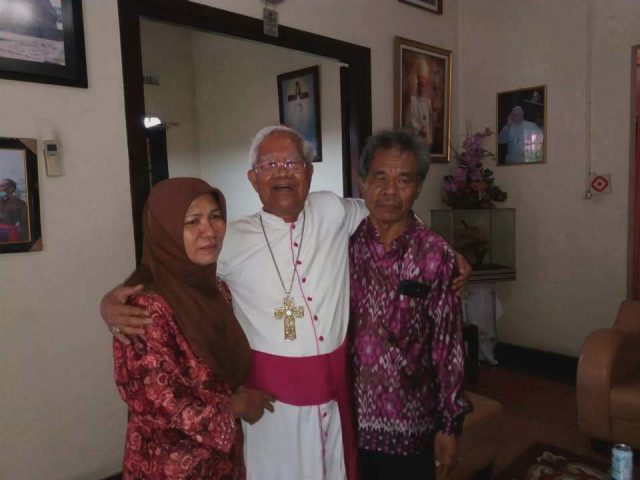 This might be the first time happening in the catholic church of Indonesia when a bishop publicly showed his magnanimity to pardon parents of a young perpetrator who tried to stab Father Albertus Pandiangan OFMCap during an abortive attack in St. Joseph Catholic Parish Church in Medan last 28 September 2016. The incident happened when the priest was suddenly attacked by unknown young 'terrorist' in the altar, shortly after he ended the reading of the Bible.
In the residence of the archbishop in the provincial capital of Medan in North Sumatra Province, Mgrs. Anicetus B. Sinaga OFMCap warmly welcome the courtesy visit of Mr. Makmur Hasugian and his wife Mrs. Boru Purba.
Their presence in the rectory was facilitated by a local catholic communication forum (FMKI) who sponsored the meeting.
However, explained Mgsr. Anicetus B. Sinaga, the initial initiative came from the parents as –the bishop said–  "They want to express their huge sorry over the incident."
Speaking to AsiaNews by sending texts, Mgrs. Anicetus B. Sinaga OFM expressed his strong appreciation over the parents' initiative to come and ask pardon on behalf of their son –the perpetrator of the incident in St. Joseph Catholic church last 28 August 2016.  "I am personally happy to welcome them coming to our rectory for a courtesy visit," the bishop in a short message text.
Magnanimity
Medan Archbishop Mgrs. Anicetus B. Sinaga OFMCap and Father Albert Pandiangan OFMCap happily accepted their good gestures to ask pardon over the disturbing "chaos" during the week-end Sunday service that forced the catholic congregation in St. Joseph Parish Church failed to attend the mass.
The Eucharist was finally "ended" following this unexpected incident, following the arrest of the perpetrator by police force. Further investigation explained that this young adolescent is not a member of any under-ground terror cell group. He did it individually simply because he was financially tempted to receive at least 10 thousand million by unknown "actors" in return for his success to kill the priest.
"I accepted their request with open heart," explained the archbishop to AsiaNews.
During this amicable visit and meeting, the archbishop discussed what the Catholic Church tried to replicate what Pope Francis has told to any Christian in all over the world over the urgency to show the merciful face of the Church by easily giving pardon.
"It is about moral obligation to accept anybody who by his or her initiative to come to us for asking pardon. The second issue is about the magnanimity namely to erase all disturbing emotions in our heart following the abortive attack in the church."